356 Speedster, from Zuffenhausen to Hollywood Boulevard…
Our 356 Speedster is very much sought-after… So we have decided to add a second one to our "ideal collection"!!! Of course we wanted it radically different from our first grey "silver arrow". This second Speedster is black with a red interior and a "Banjo" steering-wheel…
… Because the Porsche 356 Speedster has seduced all the stars of its time ! Devised by Max Hoffman, the sole Porsche importer for the United States, this convertible version of the 356 has encountered a huge success thanks to its very low and raked windshield which gives it an exceptional shape….
Moreover, for all your ceremonies and events, the Porsche 356 Speedster's curves are "naturally photogenic", it will give all you pictures an incomparable glamour; fast and reliable she is the "mother" of all modern Porsches and of course it is above all forever "James Dean's car"!!!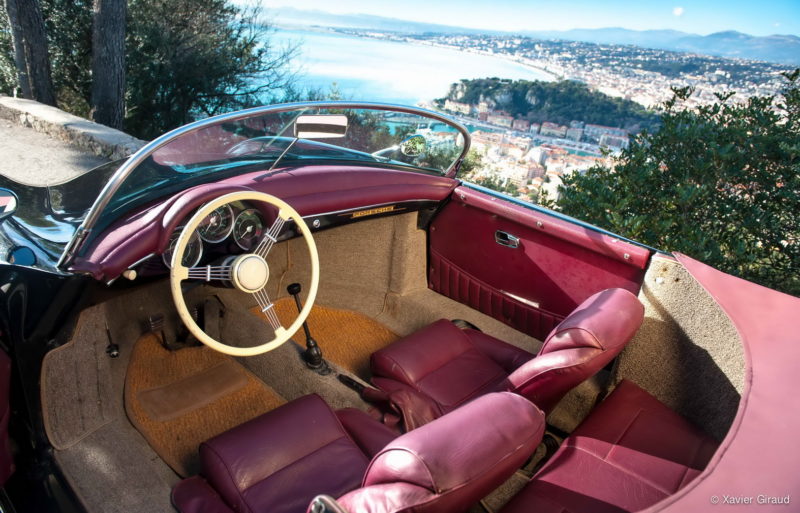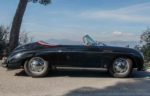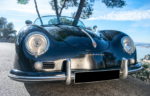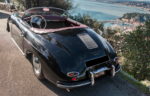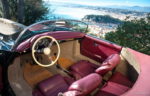 On the practical side: The Porsche 356 is breathtakingly beautiful but it's also a true sports car ! Light, nimble and quick, it is perfectly at its ease in the modern traffic and you will drive it very easily thanks to its very light front-end, it goes from turn to turn on a diabolic rythm !!! Only precaution, the (very!) rear engine requires to be a bit cautious on the wet… Fortunately the sun always shines on the French Riviera!!!
The front boot enables to bring the "essential" but you can complete it by putting more luggages on the rear bench (or if you prefer, to transport one adult or two young children).
Specifications : Porsche 356 Speedster Intermeccanica, black, red leather interior, Banjo steering wheel, VDO counters, 2+1 seater, 800 kilos, flat four cylinder engine bored out to 1776 cc (about 110 Bhp, + 170 km/h), 4 speed gearbox, 2 discs brakes in front, 2 drums in rear.
Rate: from 549 € per day, go to our Tarifs & Conditions and Contact pages!