An enthusiasts' company !
Rent A Classic Car has been set up by Fabrice and Linda Le Roy in order to enable as many car enthusiasts as possible to live the fantastic experience of driving a classic car on the French Riviera.
Fabrice and Linda have settled in Nice in 2006 after living in Bordeaux and in the United States. They litteraly felt in love with the region which is offering so many things to do and to see, troughout marvellous landscapes, between sea and mountains …
The collection has expanded and one day some friends asked them to borrow one of their cars in order to give a "special touch" to their wedding anniversary … A few weeks later Rent A Classic Car was born !
Very quickly, they realized that the French Riviera was as well a tremendous "playground" for the classic cars they have a passion for, the small roads of the countryside as well as the drives on the seaside are a true delight behind the steering wheel …
Together Fabrice and Linda speak fluently French, English, German, Danish and Swedish ; they are also ready to welcome international clienteles in order to share their passion with them.
Fabrice is a professional of marketing strategy, which he has taught in business schools, he is at your disposal to put in place packaged offers and partnerships.
"We are passionate about this company which will provide many wonderful moments to other enthusiasts and we are impatient to welcome you between Cannes et Monaco"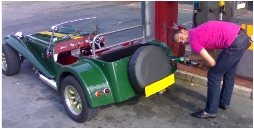 Our commitments !
Property and insurance commitment
All the vehicles we are renting out belong to Rent A Classic Car and are subjet to a professional insurance dedicated to classic car rental. Beware of the "companies" actually only putting you in touch with a private collector… Taking a cut on the way! In France, an individual owner's insurance, even if it includes a "steering-wheel lending" option, doesn't cover in any way a rental against payment, you are not covered at all!!! Contrarily, with Rent A Classic Car you benefit integrally from the same insurances as for any "normal" modern car rental, including an integral breakdown cover with no mileage limit (it covers you even in the hotel's parking)!
Reliability commitment
All the Rent A Classic Car vehicles are coming in very good original conditions and most of them have been upgraded to modern electronic ignitions to ensure you a good start in the morning! Our cars are inspected between each rental and our "fleet strategy" is to select for you a choice of spectacular but also reliable and well-tried vehicles
Discretion commitment
We know how to keep a secret and we love surprises! Birthday, wedding, romantic evening, "impromptu" gift … Just let us know a place and a time, your exception car will wait for you, wrapped in a pink ribbon or with a picnic basket in the trunk as long as it is your choice!!! With nothing more than a driving licence copy, faxed or emailed, we insure the driver of your choice in the greatest secrecy…
Confidentiality commitment
Nothing enables to recognize our cars ! No "Rent A Classic Car" stickers anywhere, no "rental policy" in the glove box, no number plates registered in the "51" or "60" French departements (well-known to welcome all the car rental fleets…). We give you one of our cars so that you can enjoy it, not so that you can advertise for us ! For the rental duration the car is yours and you write your own story…
Sustainability commitment
All the Rent A Classic Car vehicles are compliant to their original emissions norm, we verify their setting up before each rental. Above all, our classic cars are between 20 and 30 years old and we think that they still have some nice days and some nice miles ahead of them! This approch is the contrairy of wasting, it's even better than recycling, it is taking care of the beautiful things and make them last…