the little sister of the 300 SL "Gullwing"…
The 190 SL is first of all the little sister of the mythic 300 SL "Gullwing doors". It borrows its magic curveous shapes, looking at the the 190 SL one can't help thinking that she is a "sculpture in motion"! But it is also a wonderful roadster, comfortable, reliable, silent and spacious …
… Because the 190 SL is not only taking the beautiful lines of the 300 SL. Under its body we also find back the double wishbone front suspensions and the rear swing axle from the "Gullwing", it was the state of the art at that time and still today the Mercedes 190 SL stands out for its astonishing precision and road handling… It's the ideal car for the French Riviera, comfortable on the sea side, safe on the mountain roads…
It's cruising at light throttle that you will appreciate it the most, for a dinner in Monaco or a tour on the "cliff roads", in an absolute "chic"… Because what really makes the 190 SL and the 300 SL so close it's above all an extraordinary "glamour", they are quite simply two of the most gorgeous cars in the world…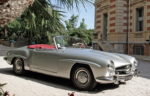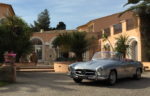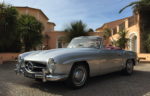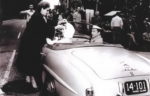 On the practical side: The Mercedes 190 SL is a true "giant" in car history but, as often with Mercedes, comfort and spaciousness have fortunately not been sacrified to "performance at all cost". The 190 SL is indeed a sports convertible car but it's first of all a wonderful car for its passengers, ideal to discover the Côte d'Azur or to go for a long trip without stress or tiredness… It's actually a high-class cruiser who will take you to San Remo, Porto Fino or Saint Tropez in no time…
The trunk is very generous and you can take more luggage (or shopping!!!) on the rear bench… Or use the third seat instead, it can easily accomodate an adult even for a long trip!!!
Specifications: "Silver Arrow" metallic gray, "Hellrot" red leather interior, 2/3 seater, 1160 kilos, 4 cylinders in line 1900 cc (about 110 cv, + 170 km/h), 4 speeds gearbox, assisted drum brakes all round.
Rate: from 599 € per day, go to our Tarifs & Conditions and Contact pages!