The Queen of cool!
Our Porsche 911S is a Targa, but apart from that it is identical to the one Steve McQueen drove in "Le Mans" and this is no coincidence!!! The "King of Cool" was an enthusiast, and just as him we have fallen for the unique blend of the sportsmanship, the efficiency and the masculine elegance of the 911…
The Porsche 911 is truly the archetype of "the sports car". It is very comfortable and very practical yet certain details do not deceive; it was fundamentally designed for speed!!! In the 70's, nothing else interested the Zuffenhausen engineers… nevertheless, a far cry from its reputation of being a car for "racing drivers", the 911 is quite "easy to handle". As a matter of fact, it is an agile mount, with an extremely sharp and precise front end. In fact, when sitting behind the wheel, one can be quite surprised by its extreme efficacy and it can be difficult to believe that one is driving a 43-year-old "classic"!!!
Notably, the engine doesn't have a scratch. Its 2.4L, 6 cylinder "aircooled" boxer is a dream. Its racing grade dry sump lubrication allows it to climb in the RPM's with thunderous speed and it is exceptionally reliable. The look of the dashboard has become legendary. The Targa soft top is simple and practical and the controls come naturally to hand … in point of fact the 911 is flawless!!!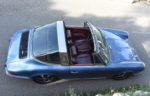 Coté pratique : La 911 a un bon coffre à l'avant (pour des bagages plutôt plats ou souples tout de même) et en plus il y a deux "vrais" sièges arrières pour des enfants ou de jeunes adolescents. Le concept "Targa" est fantastique, il permet disposer selon l'humeur ou le profil de l'étape d'un coupé ou bien d'un cabriolet.
Très "moderne" de conception la 911 est facile de prise en main, c'est une voiture idéale pour de long trajets, elle est fiable et sa conduite n'est pas fatiguante, il n'y a que sous la pluie qu'il faut être particulièrement vigilant ...
Spécifications : Couleur bleue "Gemini" (tellement 70's !!!), intérieur cuir Bordeaux, 2 + 2 places, 1075 kilos, moteur 6 cylindre à plat de 2,4l en version "S", 165 chevaux, boîte 5 vitesses, 4 freins à disque, Vitesse maxi : 230 km/h
Rate: from 599 € per day, go to our Tarifs & Conditions and Contact pages!