"Bella Machina" for "Dolce Vita" !
"Rosso Corsa" with lots of chrome, fancy into the last detail but with a"sports heart" and always the "twin cam" engine's music … It's an Italian, it's an Alfa Spider, the most beautiful in our opinion, the Spider Giulia, definitely the ideal car for a stylish ride on the French Riviera …
The Italian answer to the "swinging London" madness, it is the "Dolce Vita" ! Even if the Spider Giulia is not in Fellini's movie and will stay forever Jean-Paul Belmondo's car in "Pierrot le Fou", the Spider Duetto incarnateswonderfully this "sweet life", mixing classical style and unbrideld creativity.
The Alfa Spider Giulia is above all a wonderfully made car, giving a sense to the "driving pleasure" notion. The "Bialbiero" engine is smooth and powerful, to cross villages gently, or to attack turns in the high revs ! Veglia instruments, bakelite steering-wheel, 45 gearstick falling naturally to hand, the smell of the "Texalfa" seats (the Alfa Romeo leatherette) stylish details everywhere until the door handles, this car has been made by car enthusiasts for other car enthusiasts!!!
Get behind the steering wheel but be careful, you will perhaps never let it go ! Victim, as many, many others, of the famous "Alfa virus"…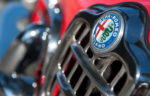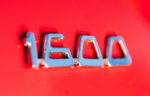 On the practical side: The Spider Giulia fits the French Riviera like a glove, tours on the seaside or sharp turns in the rear country hills, it is at its ease everywhere. Its big trunk will enable you to bring all your luggages and you even have some more space behind the seats… The Alfa Spider is also quite cheap on gasoline for a sportscar and pretty quick on the highway, actually it's perhaps the "easiest" car of our collection…
Specifications : "Rosso Corsa" colour, black "Texalfa" interior, 2 seater, 950 kilos, 4 cylinders Alfa 1600 "Twin Cam" engine, 115 Bhp, 5 speed gearbox, drum brakes all round, maximum speed : 175 km/h.
Rate: from 549 € per day, go to our Tarifs & Conditions and Contact pages!